CLEANROOM LUMINAIRES
Born in the pharmaceutical industry, the cleanrooms are becoming increasingly necessary in many other sectors where high-tech and high-precision products are manufactured. A CLEANROOMis a controlled contamination environment, designed to minimise the presence of microparticles within it. This is why the modular structures, surfaces and lamps for cleanrooms must be free of edges and gaps and be made of materials that are easy and safe to clean. Similarly, temperature, humidity and pressure control are indispensable features of these work areas.
In engineering, also the luminaires of a cleanroom play a central role in both supporting the smooth running of production processes and ensuring the visual comfort of operators.
The production of FORALIGHT in this sector shows sensitivity to both issues. Thanks to the experience gained by collaborating in various projects, we have developed cleanroom lamps for different metal modular structures, monolithic ceilings and walkable ceilings.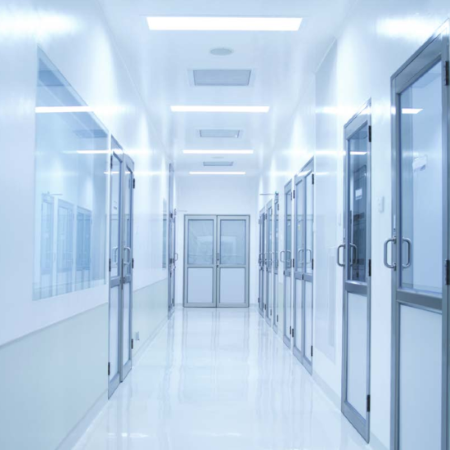 ---
it's a take
The mother company of the family, created to be the best answer to the technical and regulatory requirements of the hospital sector. For years it has been the choice of leading companies in the fitting out of operating theatres, hospitals and clean rooms.
one luminaire, everywhere
A single solution for different modular facilities from operating theatres to ancillary areas. A flexible and adaptable fixture that always complies with regulations.
the upside down of walkable ceilings
Luminaire for walkable ceilings from 60 to 100 mm in thickness. Available in the Basic version with mounting from above or Plus version with mounting from above or below and executable by a single operator.